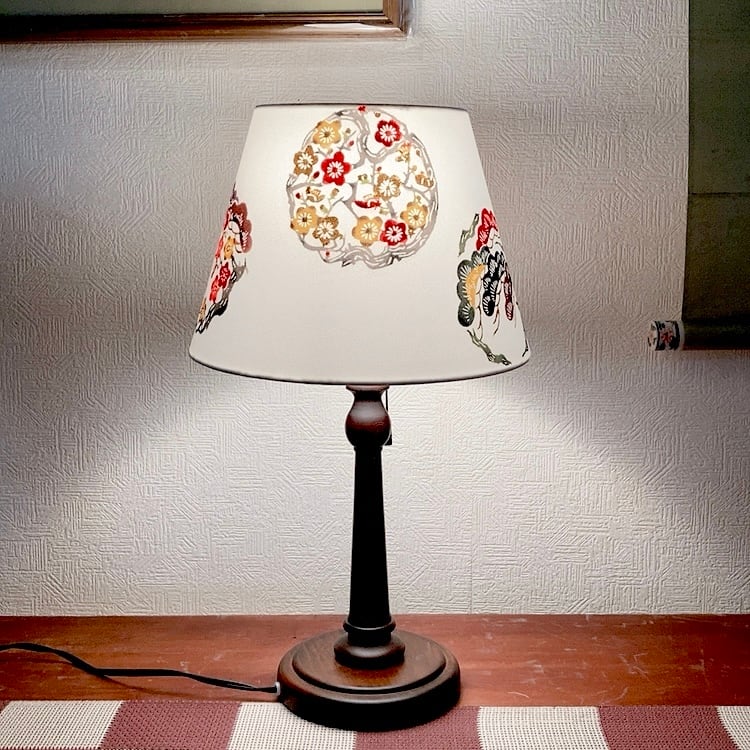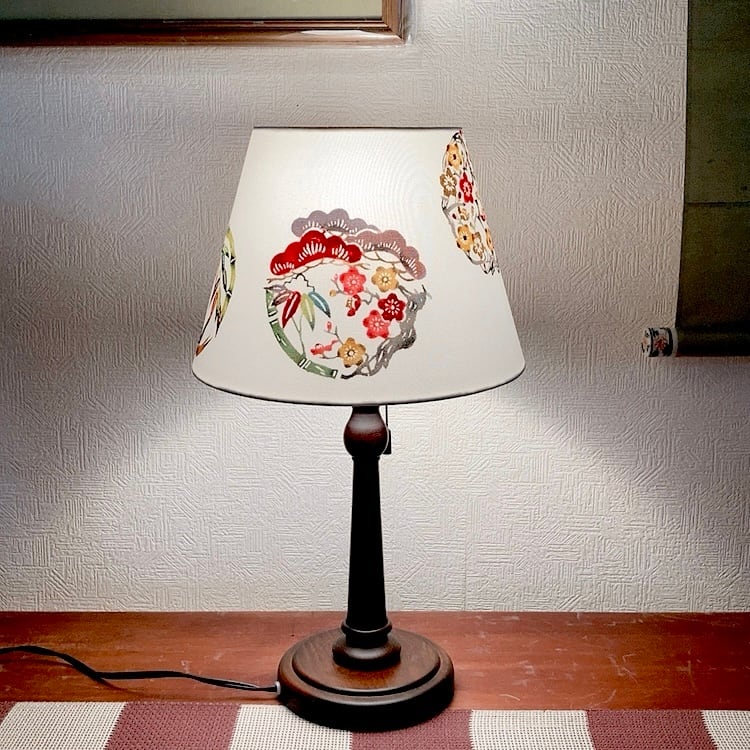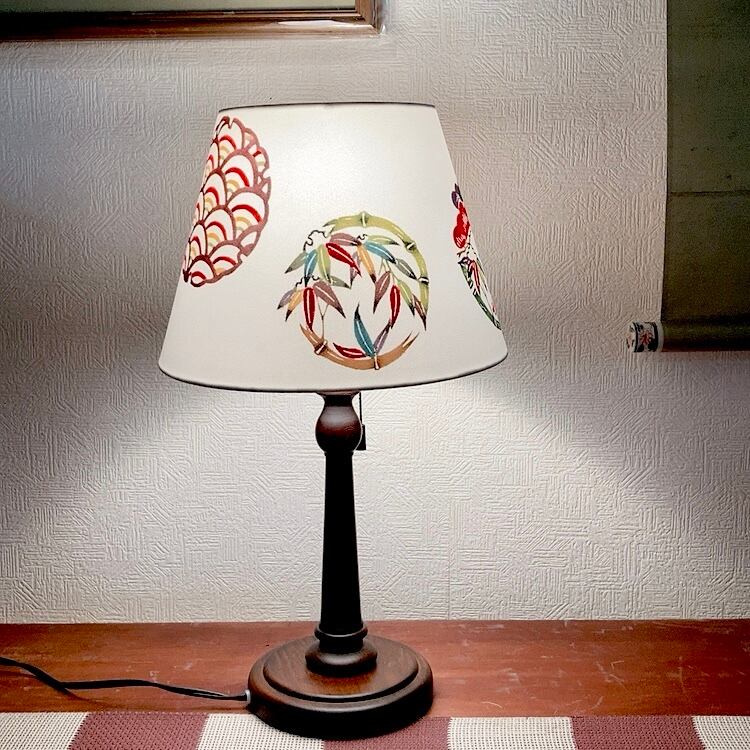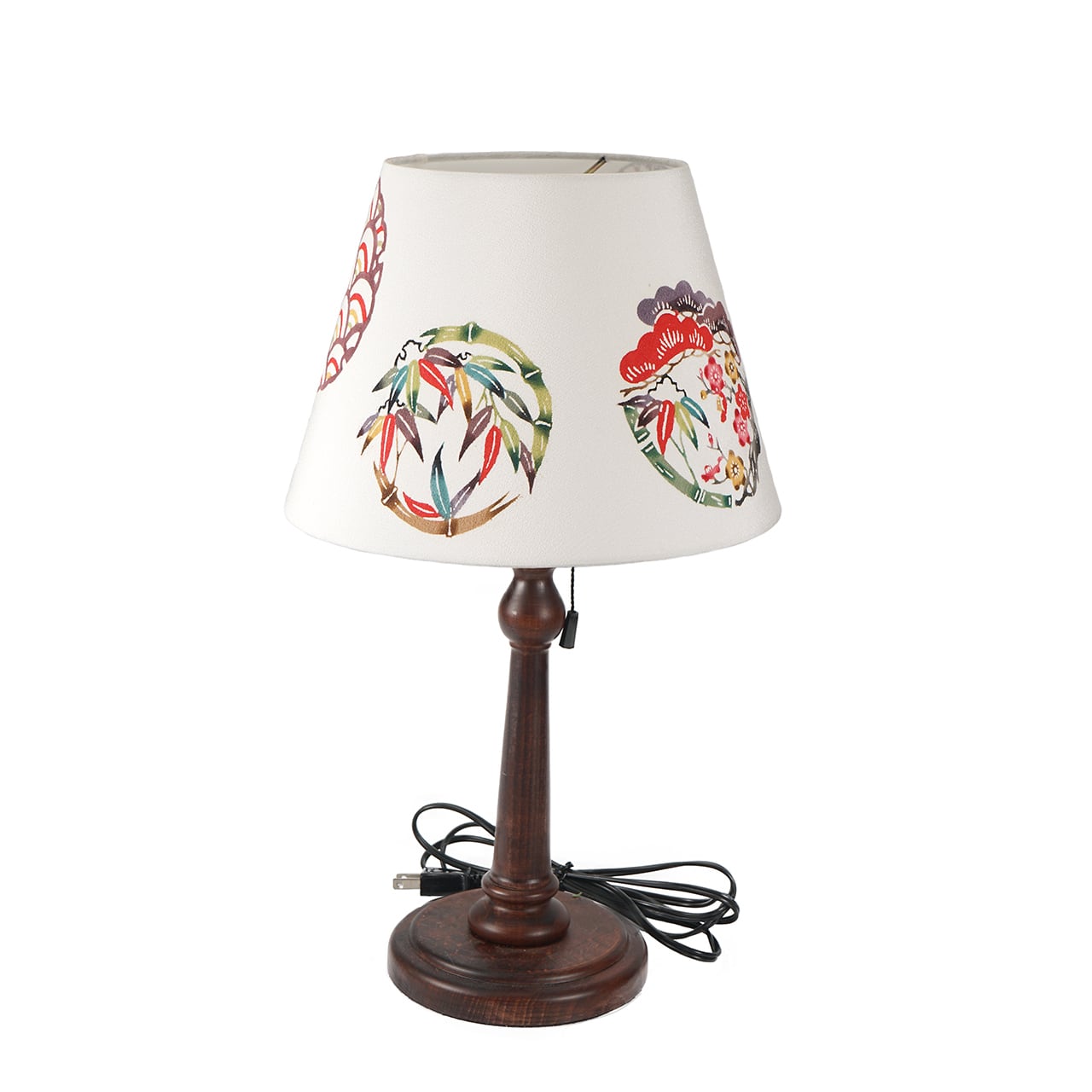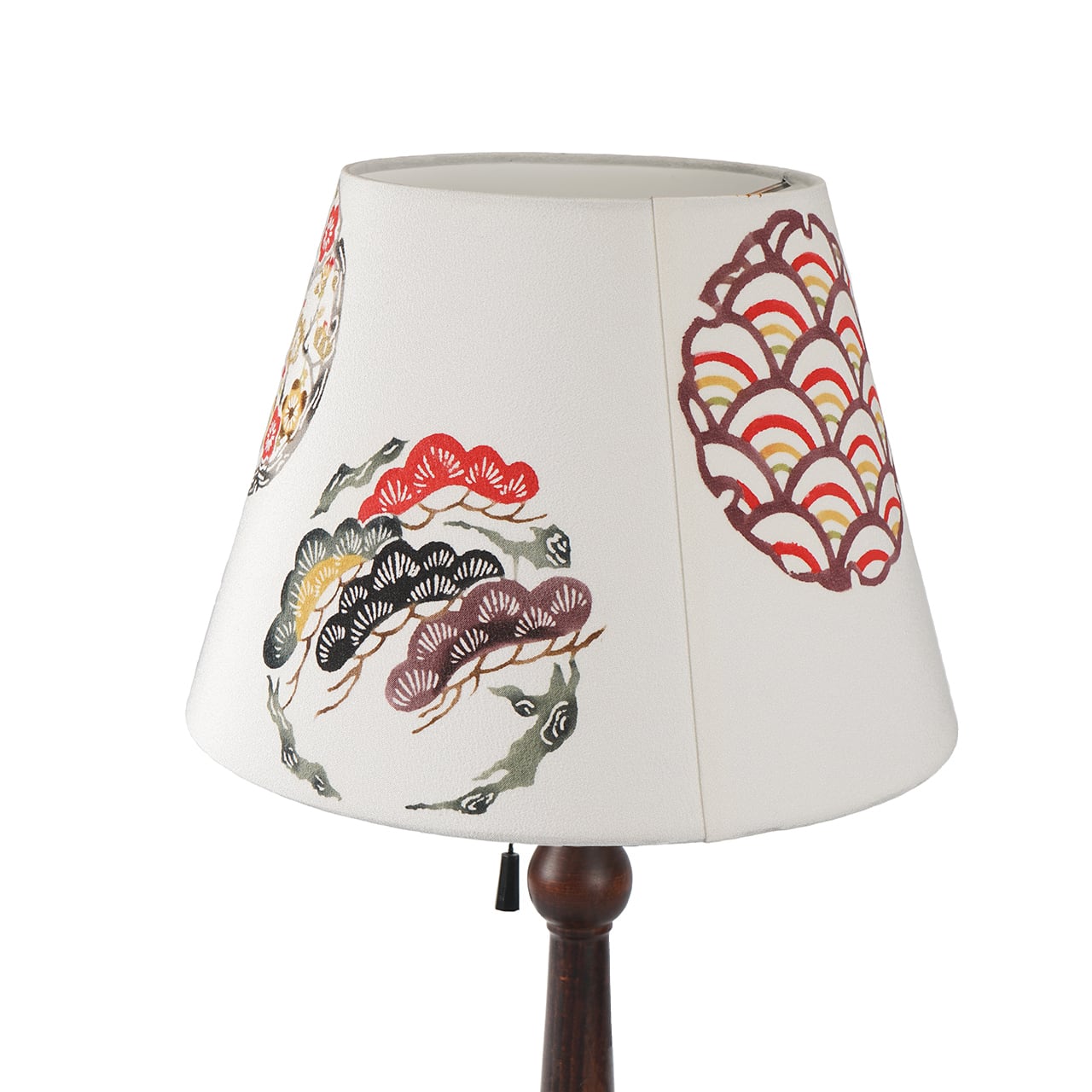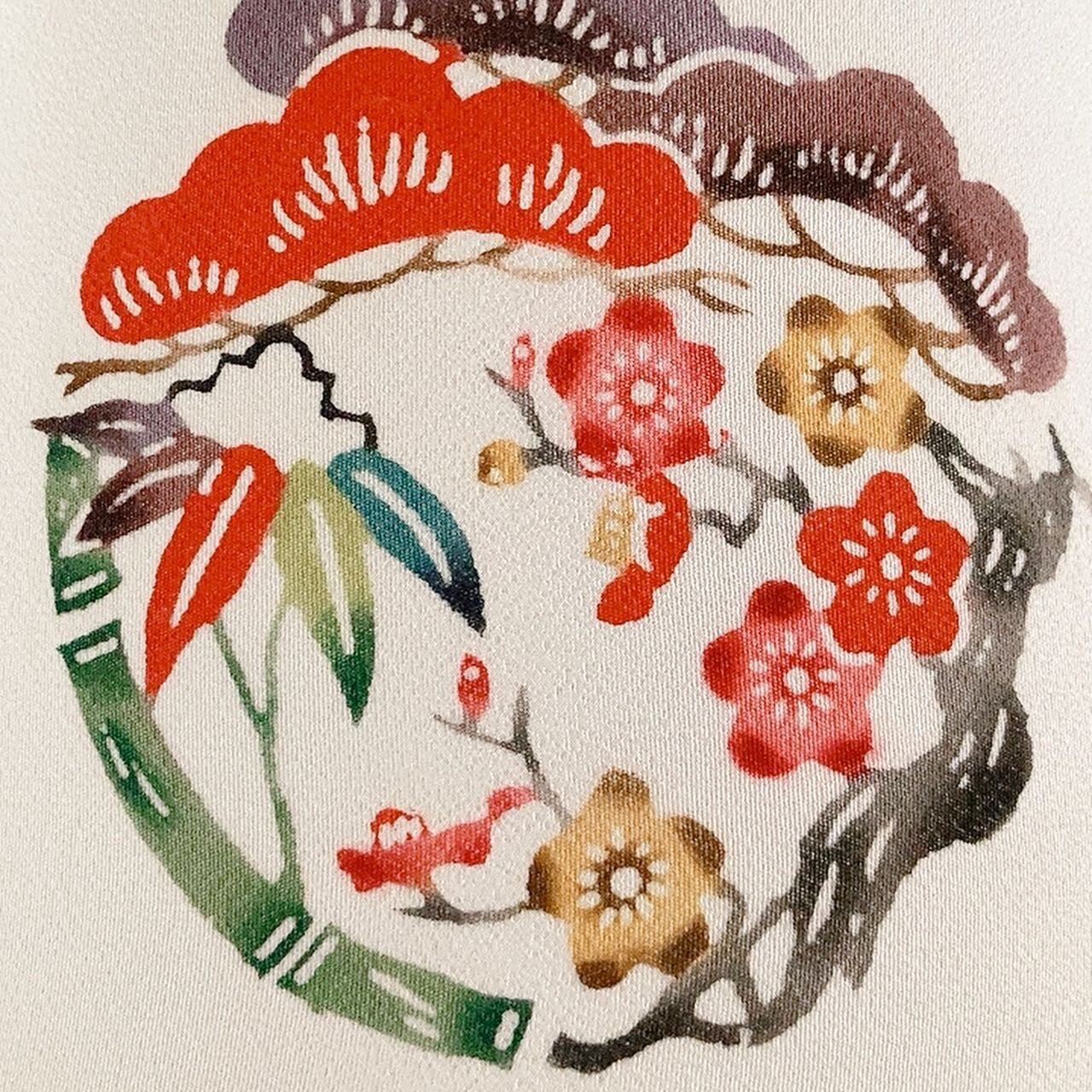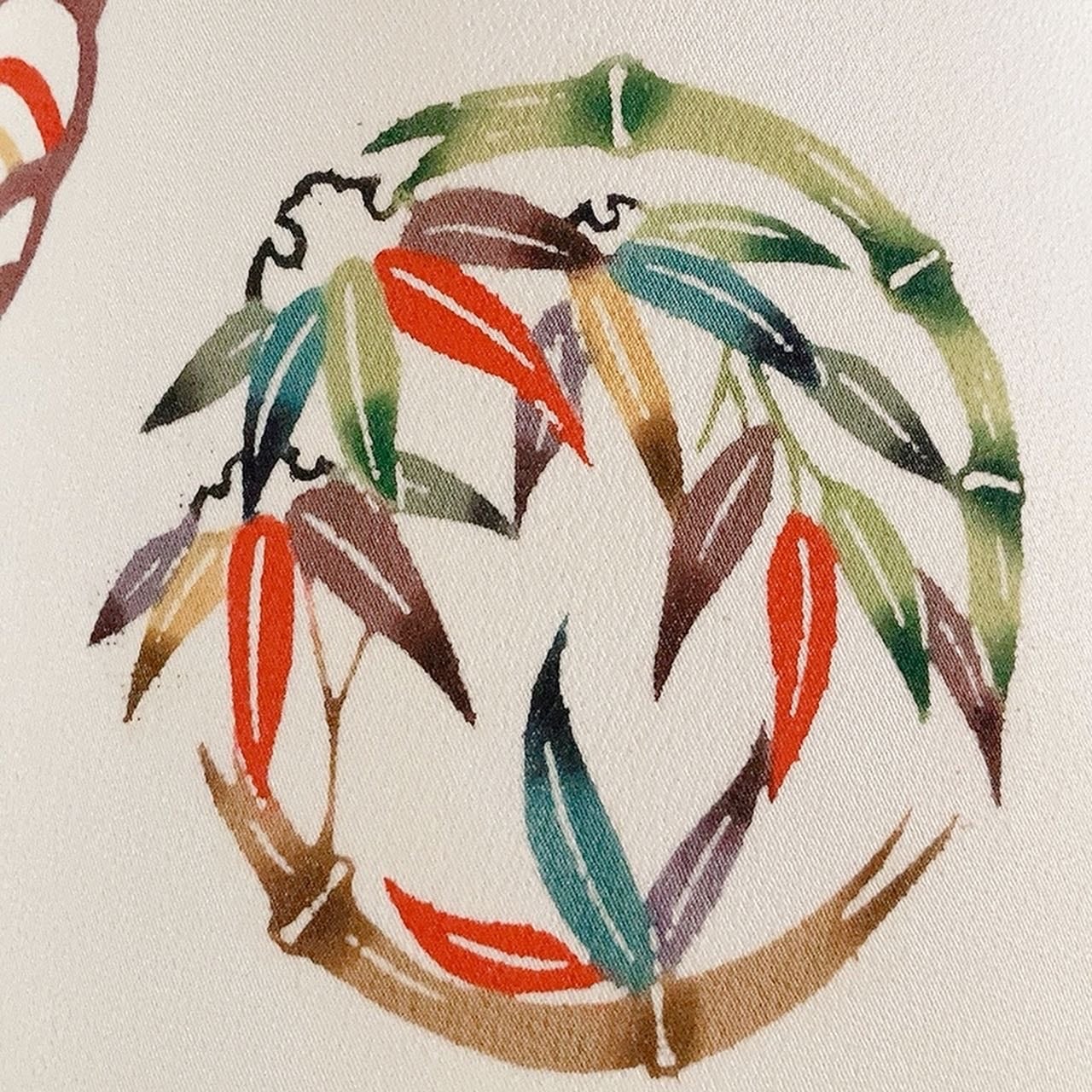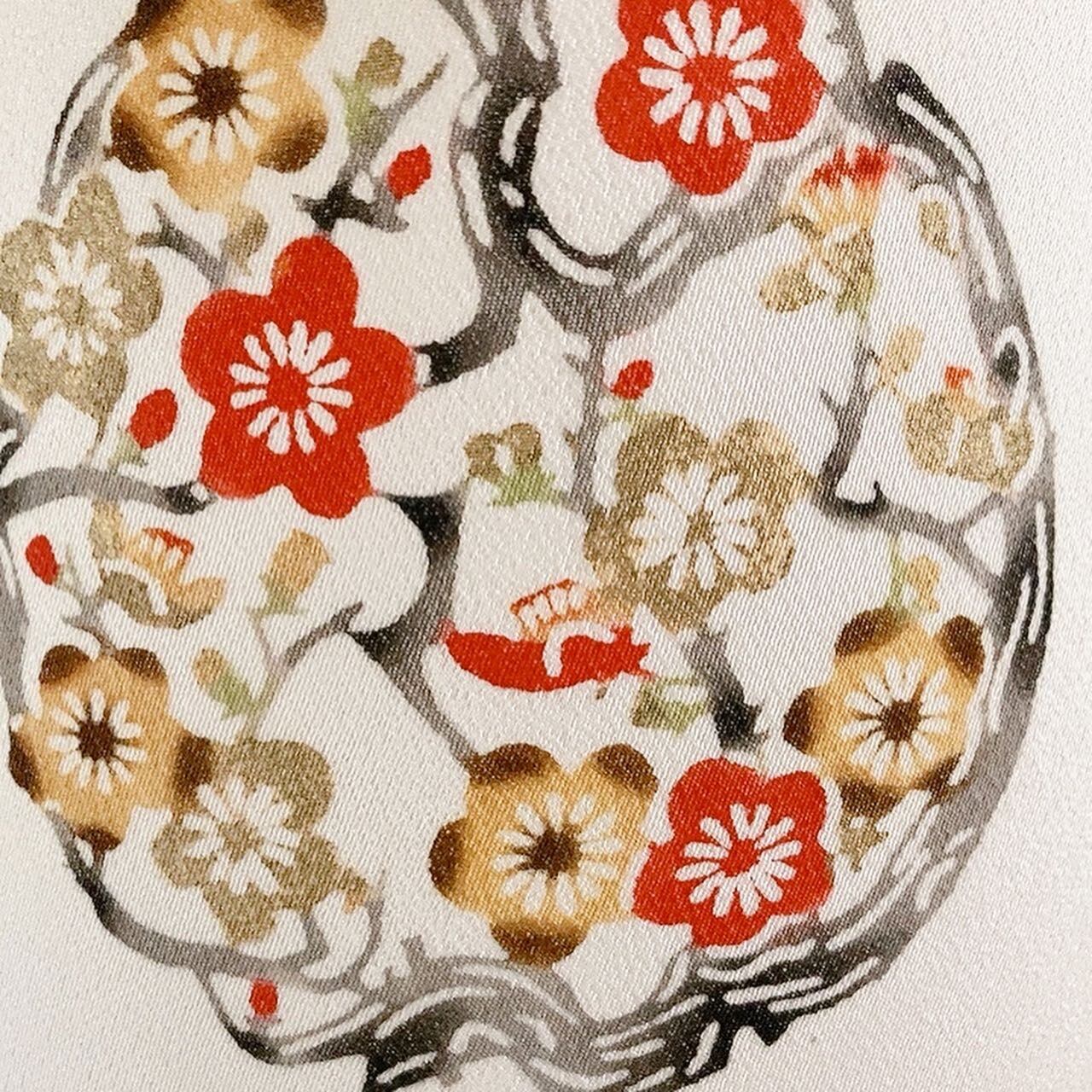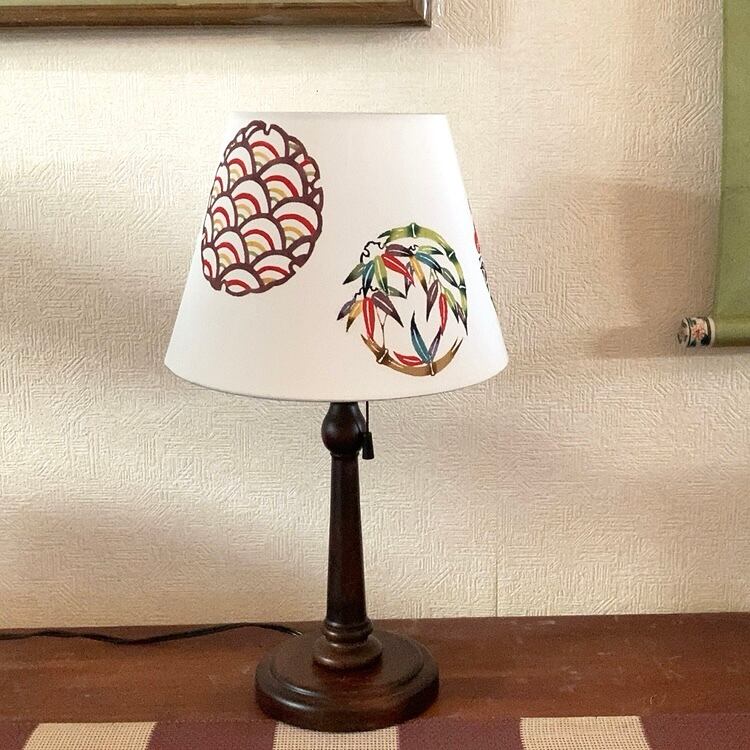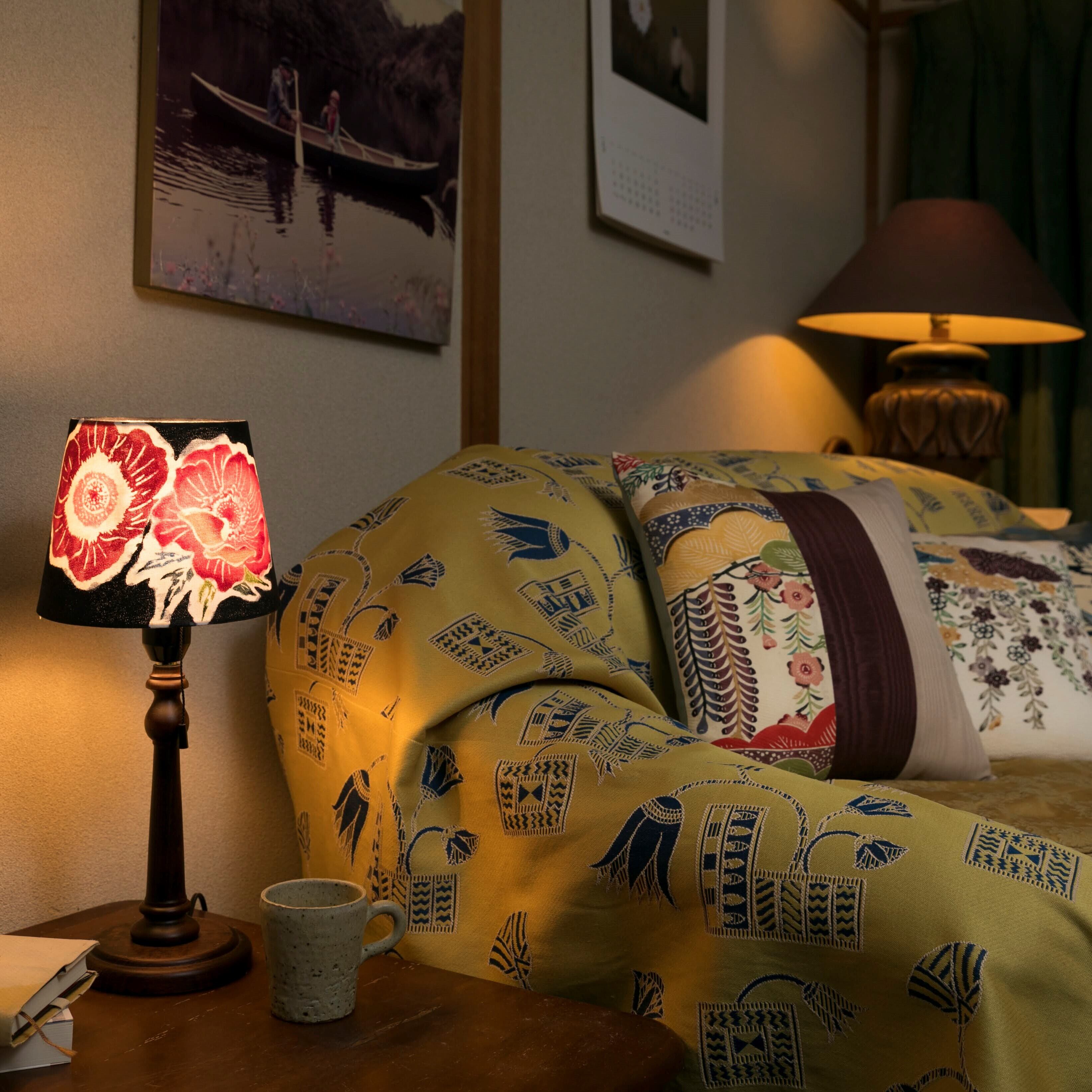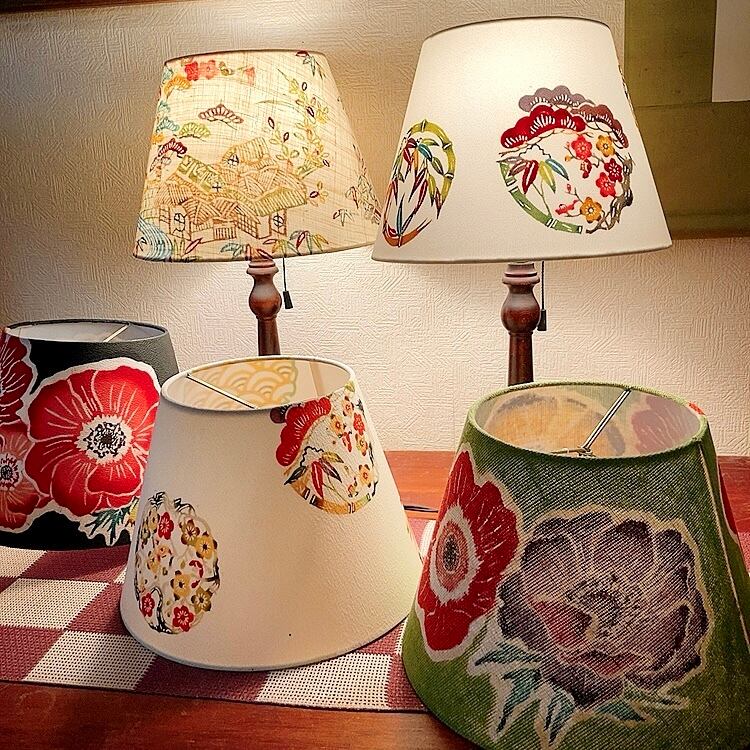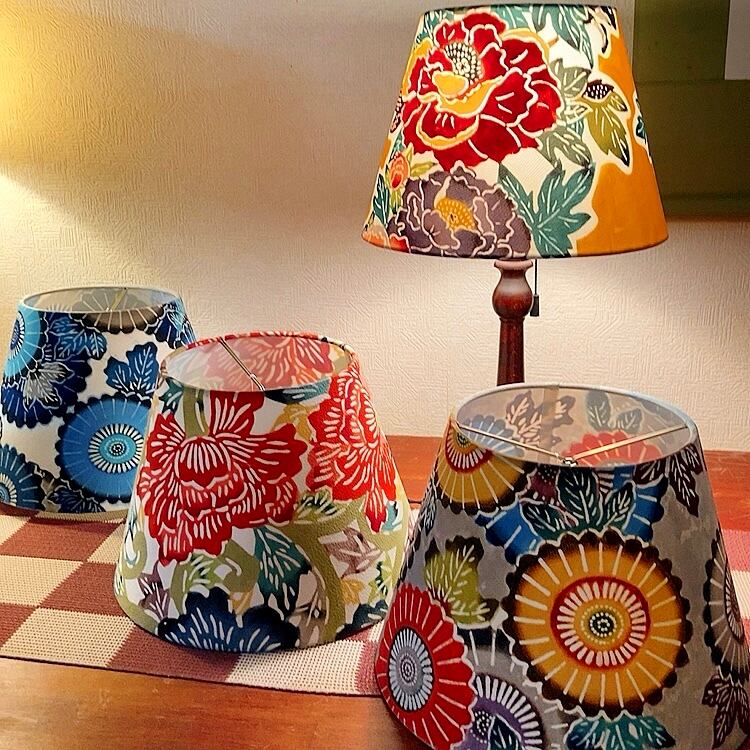 【モダン紅型】松竹梅 (ランプシェード) 赤紫系
【モダン紅型】松竹梅 (ランプシェード) 赤紫系
暖色系を多く使用した、
シックな色合いな
紅型染めのランプシェードです。

松竹梅や雪輪文、青海波が描かれています。
松竹梅文は吉祥文様のため、四季を通じて
お使いいただけます。

梅柄の一部には金色を使用し、
豪華な仕上がりになっています。

洋室和室問わずお使いいただけるデザインです。
置くだけでお部屋の雰囲気を華やかにしてくれます。
ちょっとしたお部屋の模様替えに紅型染めのランプシェードを取り入れてみませんか?

<松竹梅文>
吉祥文様で知られていますが、3つとも寒さに耐えるところから、強さを象徴した柄です。
この3つを組み合わせるようになったのは、室町時代からと言われています。
代表的な吉祥文様で四季を通して使える文様です。
「松」は神が宿る木とも呼ばれ1年中枯れることなく不老長寿
「竹」は節目がありまっすぐ伸びることから成長
「梅」は寒い中でも花を付かせることから女性の強さを意味しています。

<青海波文>
同心の半円を連ねた青海波の名は、本来、舞楽の「青海波」の装束に表れた文様に起源をもっています。江戸時代には青海水とも呼ばれていました。江戸中期には工芸の全般に広く用いられるようになりました。

<雪輪文>
純白で定かな形のない雪が文様となるのは、近世になってからと言われています。雪は何かに託して表現するしかなく、雪の降り積もった情景を意匠化することから始まりました。情景を絵画的に表した文様を「雪景文」、そこから植物のみ取り出した文様が「雪持ち文」となり、江戸初期になると雪持ちの雪が独立した「雪輪文」が現れました。これは円の表面に数か所の凹凸を表したもので、次第に様式化されて現代に見るような凹凸を極端に協調した図案となりました。雪の結晶を図示した「雪華図説」が発行された江戸後期には、これをもとに雪輪文が愛好されるようになりました。

--------------------------------------------------------

取付タイプ:キャッチ式
E-26一般球形に適合

サイズ 高さ 約18cm/直径 約25.4cm
染色生地:絹

※購入前に必ずご確認下さい※
◆おかめ工房オリジナル商品です。
◆手染めになりますので、一点ものです。
◆染めムラなどある場合がございます。ご了承ください。
◆スタンド本体、電球は付属しておりません。(商品オプションで購入可能です)。

※画像のランプスタンドはイメージです。
※商品の色は、可能な限り実物に近い色を出そうとしておりますが、携帯やパソコン、スマホのモニター環境により若干異なって見える場合がございます。

--------------------------------------------------------

<紅型染め工程>

1.型彫り:デザインを決め、型紙へ転写し、模様部分から彫っていきます。

2.紗張り:型紙を紗という生地で補強、固定する作業です。カシュー液またはペンキを使用します。

3.糊置き:型紙の上からペースト状の防染糊をヘラで薄く均一に伸ばし、生地に模様を写し取っていきます。

4.豆引き:染料が糊の裏側に染み出るのを防ぎ、染料の染め付けを良くし、定着させる作業です。

5.色差し(1度塗り):模様部分(糊がおかれていない部分)を染めていきます。染料・顔料を調整し刷毛で布に刷り込み配色します。顔料は豆汁で溶くと固着剤の役割を果たし、にじみ防止になります。

6.色差し(2度塗り):2回色を刷り込む事で色ムラを無くし、しっかり色を入れます。

7.隈取り:紅型の大きな特徴の一つです。色の上から隈取り用の刷毛で濃い色のぼかしを入れ陰影をつけます。ぼかし染めは図柄にアクセントをつけ立体感を出す効果があります。

8.明礬作業:完全に乾いた後、色落ち止めとして主に明礬を用います。

9.水元:約3日程色を定着させた後、水に浸します。糊が柔らかくなったら、布を斜めに引っ張り糊をはがすように落とします。

10.湯のし:蒸気を使ってシワをきれいに伸ばしていきます。反物幅を均等に揃えるための加工のことです。

11.仕立て:着物や帯、作品に仕立てて完成します。全行程手作業で行っており、全て1点ものとなります。


沢山の工程があり、ひとつひとつ手作業で染色しています。
紅型本来である「顔料」という染料を使い、昔から変わらない工程や技法で本格的な紅型作品を制作しております。


--------------------------------------------------------

Bingata dyed lampshade.
This design can be used in both Western and Japanese-style rooms.
Just by placing it in a room, it will make the atmosphere of the room more gorgeous.
Why don't you try to introduce a Bingata-dyed lampshade to your room for a little redecoration?

<Pine, bamboo, and plum design>
Known as an auspicious pattern, the pattern symbolizes strength because all three endure cold weather.
It is said that the three were combined in the Muromachi period (1333-1573).
It is a typical auspicious pattern that can be used throughout the four seasons.
Pine" is also called "the tree in which the gods reside" and it never withers, ensuring longevity and longevity throughout the year.
Bamboo" grows because it has knots and grows straight.
The "ume" signifies a woman's strength, as it produces flowers even in cold weather.

<Seigaiha pattern>
The name "seigaiha" (blue ocean waves), which consists of a series of concentric semicircles, originally originated from a pattern that appeared in the "seigaiha" costume of bugaku (Japanese court music and dance). During the Edo period, it was also called "blue seawater. In the mid-Edo period, it came to be widely used in all crafts.

<Snow-wreath pattern>
It is said that snow, which is pure white and has no definite shape, became a pattern only in modern times. Snow could only be expressed by depicting it in some other way, and this began with the design of snowy scenes. The patterns that pictorially depicted snowy scenes were called "Yukikkei-bun," from which only plants were extracted, and "Yukitate-bun," or "snow ring pattern" appeared in the early Edo period. In the early Edo period, the "snow ring" pattern appeared, in which the snow-carved snowflakes were independent of each other. This pattern was stylized by showing several bumps and dips on the surface of a circle, and gradually became the extremely coordinated pattern of bumps and dips that we see in modern designs. In the late Edo period (1603-1868), when "Yukirin Zusetsu" (illustrating snow crystals) was published, snowflake patterns became popular based on this book.

--------------------------------------------------------

Installation type: Catch type
Fits E-26 general-purpose bulbs

Size: Height: approx. 18 cm / Diameter: approx. 25.4 cm
Dyed fabric: silk

Please be sure to check before purchase*.
This is an original product of Okame Kobo.
This product is hand-dyed, so it is one of a kind.
There may be some unevenness in dyeing. Please understand.
Stand itself and light bulb are not included. (They can be purchased as an optional accessory.)

The lamp stand in the image is an image only.
Although we have tried to make the colors of the product as close to the real thing as possible, they may look slightly different depending on the monitor environment of your cell phone, computer, or smartphone.

--------------------------------------------------------

<Bingata Dyeing Process>

1. Kata-bori: The design is decided, transferred to a stencil, and carved starting from the patterned area.

2. Gauze stretching: Reinforcing and fixing the katagami with a fabric called gauze. Cashew solution or paint is used.

3. Glue-placement: Paste paste is spread thinly and evenly over the pattern using a spatula, and the pattern is copied onto the fabric.

4. Mamegaki: This process prevents the dye from seeping through to the underside of the paste, and helps the dye to adhere and fix in place.

5. Color-application (one coat): Dyeing the patterned area (the area not covered with glue). Dye and pigment are adjusted and brushed onto the cloth with a brush to distribute the colors. Dissolving the pigments in soybean juice acts as an adhesive and prevents blotting.

6. Color is applied twice (two coats).

7. Kuma-dori (shading): This is one of the main characteristics of Bingata. The kumadori brush is used to add shades of darker colors on top of the colors. Bokashi-dyeing has the effect of accentuating the design and giving it a three-dimensional effect.

8. Aluminum water: After completely drying, aluminum water is mainly used to prevent the colors from fading.

9. After allowing the colors to set for about three days, soak in water. When the glue softens, pull the cloth at an angle to peel off the glue.

10. Yunoshi: The wrinkles are stretched out cleanly using steam. This process is used to make the width of the fabric even.

11. Tailoring: The fabric is finished by tailoring it into a kimono, obi, or work of art. The entire process is done by hand, and each piece is unique.


There are many processes and each piece is dyed by hand.
We produce authentic Bingata works using dyes called "pigments," which are the original Bingata, and using the same processes and techniques that have been used since ancient times.
*Tax included.
*Additional shipping charges may apply, See detail..

About shipping fees
The shipping fee for this item varies by the shipping method. Customers can choose the shipping method at time of purchase.
Yamato Transport

Your delivery status can be checked online.

Shipping Fees are the same all over country inside Japan ¥1,000
EMS

This shipping supports package tracking and compensation for damages.

Regional setting

Afghanistan

Bangladesh

Bhutan

Brunei

Cambodia

China

Guam

Hong Kong

India

Indonesia

Laos

Macao

Malaysia

Maldives

Marshall Islands

Micronesia, Federated States Of

Mongolia

Myanmar

Nepal

North Korea

Northern Mariana Islands

Pakistan

Palau

Philippines

Singapore

South Korea

Sri Lanka

Taiwan

Thailand

Timor Leste

Vietnam

Australia

Christmas Island

Cocos (Keeling) Islands

Cook Islands

Fiji

French Polynesia

Kiribati

Nauru

New Caledonia

New Zealand

Niue

Norfolk Island

Papua New Guinea

Pitcairn

Samoa

Solomon Islands

Tonga

Tuvalu

Vanuatu

Wallis and Futuna

American Samoa

Anguilla

Antigua and Barbuda

Aruba

Bahamas

Barbados

Belize

Bonaire, Sint Eustatius and Saba

Canada

Cayman Islands

Costa Rica

Cuba

Dominica

Dominican Republic

El Salvador

Grenada

Guadeloupe

Guatemala

Haiti

Honduras

Jamaica

Martinique

Mexico

Montserrat

Netherlands Antilles

Nicaragua

Panama

Puerto Rico

Saint Barthélemy

Saint Kitts and Nevis

Saint Lucia

Saint Martin

Saint Pierre and Miquelon

Saint Vincent and the Grenadines

Sint Maarten

Trinidad and Tobago

Turks and Caicos Islands

U.S. Virgin Islands

United States

Virgin Islands, British

Bahrain

Cyprus

Iran, Islamic Republic Of

Iraq

Israel

Jordan

Kuwait

Lebanon

Oman

Palestinian Territory, Occupied

Qatar

Saudi Arabia

Syria

Turkey

United Arab Emirates

Yemen

Aland Islands

Albania

Andorra

Armenia

Austria

Azerbaijan

Belarus

Belgium

Bosnia and Herzegovina

Bulgaria

Croatia

Czech Republic

Denmark

Estonia

Faroe Islands

Finland

France

Georgia

Germany

Gibraltar

Greece

Greenland

Guernsey

Holy See (Vatican City State)

Hungary

Iceland

Ireland

Isle of Man

Italy

Jersey

Kazakhstan

Kosovo

Kyrgyzstan

Latvia

Liechtenstein

Lithuania

Luxembourg

Malta

Moldova

Monaco

Montenegro

Netherlands

North Macedonia

Norway

Poland

Portugal

Romania

Russia

San Marino

Serbia

Slovakia

Slovenia

Spain

Svalbard and Jan Mayen

Sweden

Switzerland

Tajikistan

Turkmenistan

Ukraine

United Kingdom

Uzbekistan

Argentina

Bolivia

Brazil

Chile

Colombia

Curaçao

Ecuador

Falkland Islands (Malvinas)

French Guiana

Guyana

Paraguay

Peru

Suriname

Uruguay

Venezuela

Algeria

Angola

Ascension Island

Benin

Botswana

Burkina Faso

Burundi

Cameroon

Canary Islands

Cape Verde

Central African Republic

Ceuta and Melilla

Chad

Comoros

Congo

Congo, The Democratic Republic Of The

Côte d'Ivoire

Djibouti

Egypt

Equatorial Guinea

Eritrea

Eswatini

Ethiopia

Gabon

Gambia

Ghana

Guinea

Guinea Bissau

Kenya

Lesotho

Liberia

Libya

Madagascar

Malawi

Mali

Mauritania

Mauritius

Mayotte

Morocco

Mozambique

Namibia

Niger

Nigeria

Reunion

Rwanda

Sao Tome and Principe

Senegal

Seychelles

Sierra Leone

Somalia

South Africa

South Sudan

Sudan

Tanzania

Togo

Tristan da Cunha

Tunisia

Uganda

Western Sahara

Zambia

Zimbabwe

Bermuda

Bouvet Island

French Southern Territories

Heard Island and McDonald Islands

Indian Ocean Territory, British

Saint Helena

South Georgia and the South Sandwich Islands

Tokelau

United States Minor Outlying Islands
*Japan domestic shipping fees for purchases over ¥5,000 will be free.